Webabilities Checkup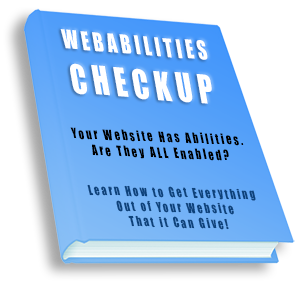 We are offering the Webabilites Checkup as a free resource now for all those that subscribe to our email news subscription.
At this time, we only mail monthly.
You may unsubscribe by tapping on the link that you'll find at the bottom of all of our emails.
Just fill in the form below and our system will send you a confirming email.
Once your subscription is confirmed, we'll email you a link to download a copy of the Webabilities Checkup!
Webabilities Checkup!
The Webabilites Checkup is a 30 page ebook covering 14 topics about your website's potential. The following "webabilities" are not necessarily listed in order of importance, and it is not absolutely essential to your website's success that every ability is in use.
However, if you incorporate all of them into your website, you will ensure that your site is current and compliant. You may grade your own website, or ask someone else to grade it for you, or both.
This guide is neither exhaustive nor complete, but the information contained in it is both accurate and authoritative.
Is Your Website FLEXABLE?
Is Your Website VALUABLE?
Is Your Website DEPENDABLE?
Is Your Website FUNCTIONABLE?
Is Your Website VISABLE?
Is Your Website USEABLE?
Is Your Website BELIEVABLE?
Is Your Website FINDABLE?
Is Your Website SCANABLE?
Is Your Website READABLE?
Is Your Website RESPONSABLE?
Is Your Website PERSONABLE?
Is Your Website CONVERTIBLE?
Is Your Website PROFITABLE?